You won't realise you are making memory's, you'll just be having fun! Book your unforgettable charter onboard Explorer, our stunning 53ft Fairline Targa. A warm welcome awaits….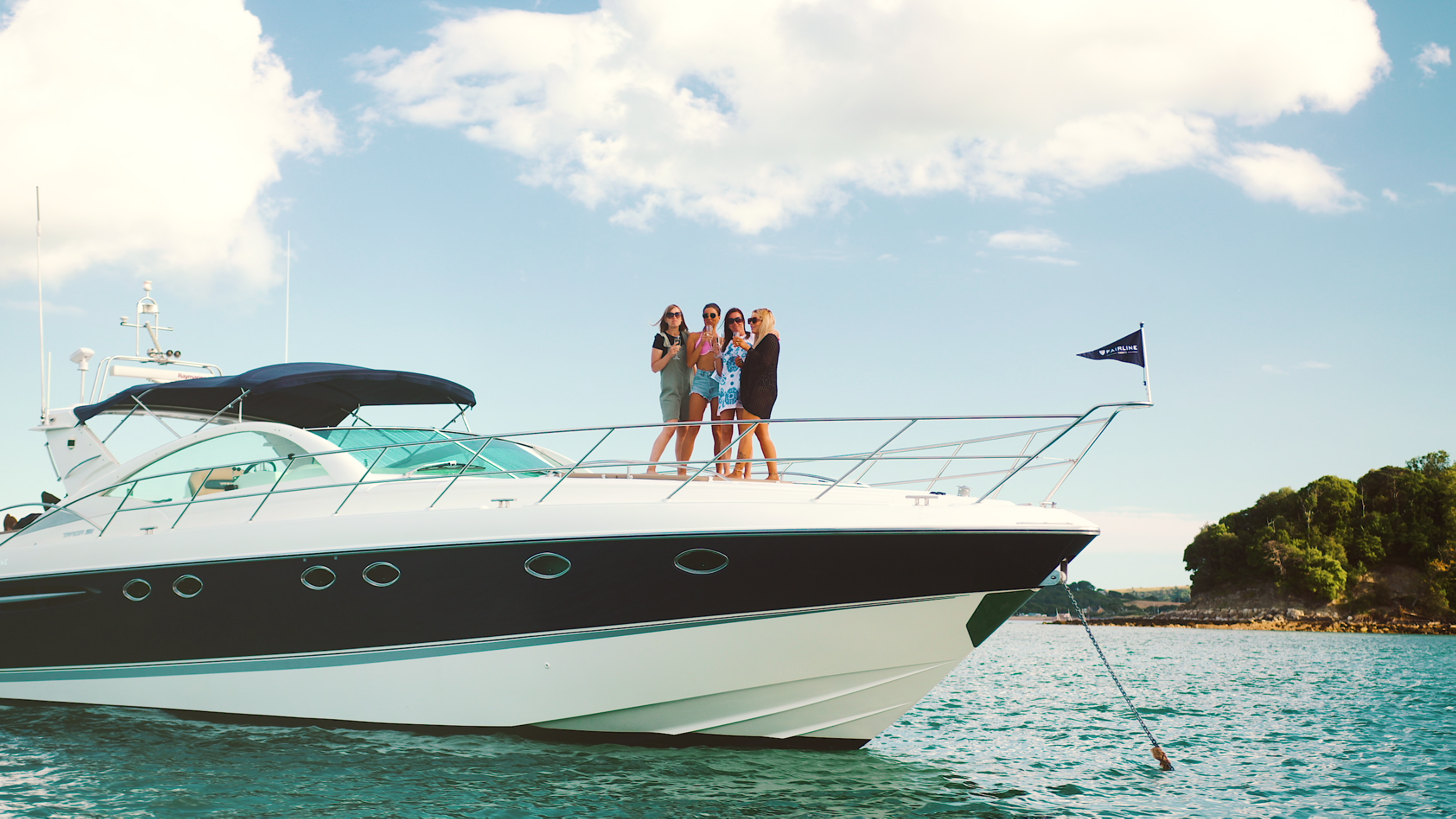 We are located on the Solent, a fantastic stretch of water nestled between the south coast & the beautiful Isle of White. The stunning bays of the island will make you question how you arrived without a flight!  Beautiful harbours & unmissable scenery, marinas brimming with restaurants & bars set the scene. There's even a designer shopping stop off available if the occasions right . This unmissable destination attracts visitors & sailors from around the world so rest assured your in for a treat!
From the moment you step onboard Explorer at her home port of Chichester in Sussex you can feel that she is a well-appointed, safe and stylish craft.
A beautiful, high-quality boat in excellent working order, Explorer is a 53ft Targa built by the world renowned builder Fairline yachts, she can provide the thrills of high speed cruising as well as comfortable and leisurely journeys, in most cases guests want a bit of both. In addition to this, Explorer has many little features hidden away that further enrich the onboard experience and will make every charter experience in the waters of southern England unforgettable.
For the complete charter experience all hot & soft drinks are included in your charter package, full onboard drinks menu offering beers, wine, champagne and a selection of perfect celebration drinks. We provide Wi-Fi on board, a 13kva generator for 240v power, commercial ice maker, a top-of-the-line stereo system, and underwater lights. Explorer boasts a water sports garage with a Williams jet tender, paddle boards (jet tender / paddle boards extra charges apply) if you fancy a dip and the skipper deems it safe to do so! We use a floating line to create a sea swimming area & hot shower provided as you exit the water…
Unmissable full & half day charters throughout the Solent, for private & corporate clients. Our yacht Explorer is available to disembark from various locations for client ease, including our home port Chichester marina West Sussex, Portsmouth Gunwharf keys, the Hamble or Lymington.
Explorer boasts a large social area perfect for up to 10 guests, with three sunbathing areas, cabins to change in after a swim, 2 bathrooms with power showers, two wc's, Wi-Fi onboard, water sports garage with tender & paddle boarding and more…
More than ever we all need some fun in 2023, check out our affordable fixed priced packages bellow.
We look forward to welcoming you onboard.
Adam & Rebecca
Chichester
5
°C
overcast clouds
CUSTOMERS FIRST
Our company ethos of people and pleasure over profit resonates throughout the business. Whether that's in the food we serve, the drinks we pour or the maintenance of our yacht we leave nothing to chance.
We return 100% of profits back into the business improving our product and service for you. We will never allow profit to rule our hearts and you can be assured of our first class service where exceeding expectations is a standard  
Timely Service
Time is precious, we promise to provide support in a opportune manner. Always a human response to your enquiry, even if that's to say we will get back to you soon.
We spend the time on every charter to make sure we have all the bases covered and you get the most out of your time spent onboard.
Going The Extra Mile
We travel all over the south coast, from Shopping at Gunwharf Quays to Southampton and Cowes on the Isle of Wight, were always up for adventure! We regularly go to: Bembridge Harbour, Yarmouth, Poole, Lymington & Bournemouth to name a few.
Package Options
Every guest has their ideal charter and its our job to deliver just that. You can relax and just chilli out with a drink in hand or if your up for it we can launch our onboard tender and take you onto a lovely beach. The choice is yours?!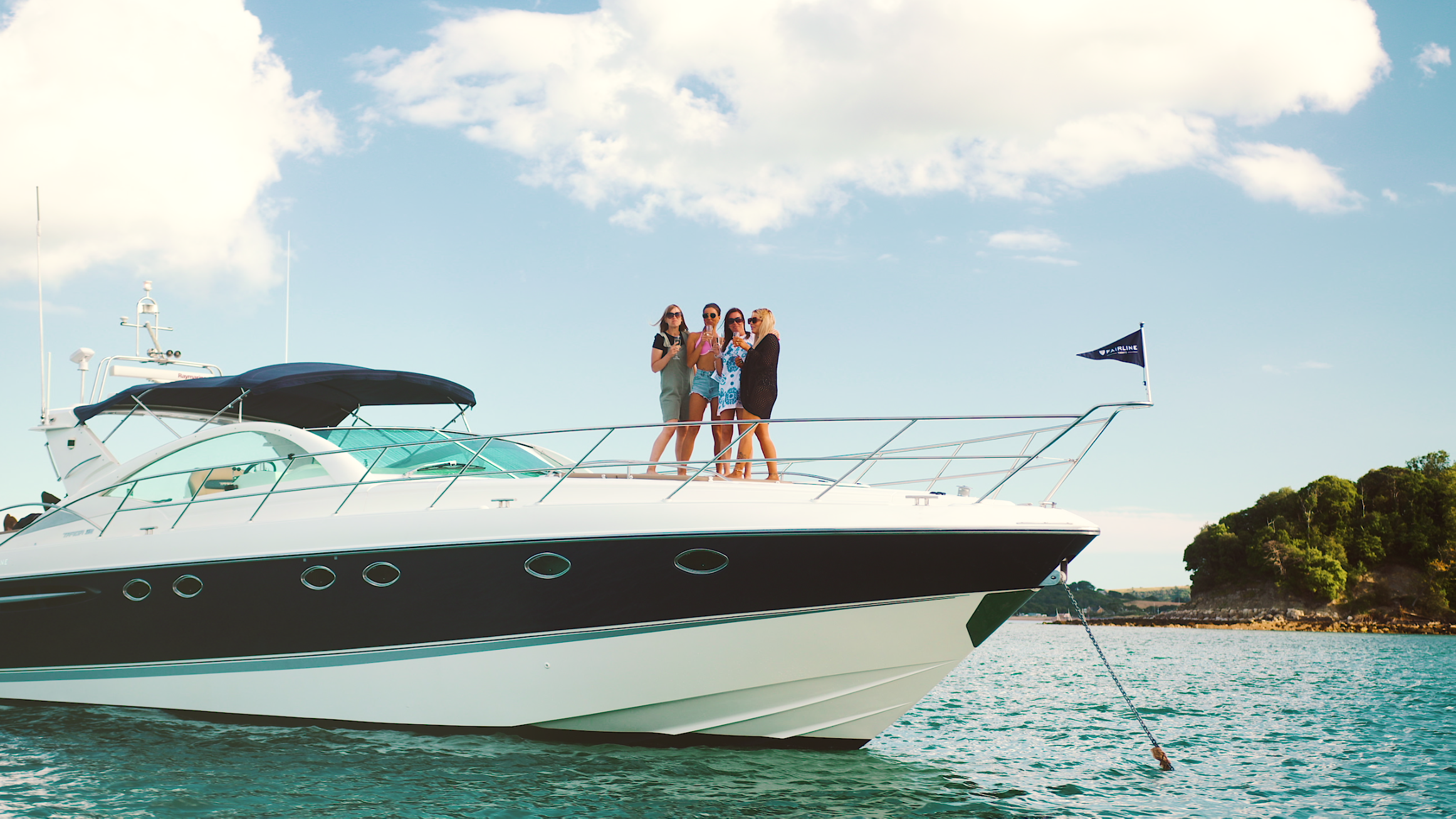 Special Occasions
Marmoris charters offers only private charters for all your special occasions, we never mix groups, whether you're celebrating an anniversary or birthday, a well deserved break onboard on 52-foot Fairline Targa motor yacht. Did someone say Cream Teas?
Corporate Entertainment
Make your next business meeting unforgettable with our Luxury Private Boat Charter from Marmoris charters, cruise the solent onboard Explorer and make your next business meetings exciting, memorable and engaging
Champagne Cruise
When the moments right Explorer will disembark her home port and head down river and out onto the glorious Solent, spoil your family and friends with a luxury cruise whilst you sip champers, now more than ever your all deserve it!